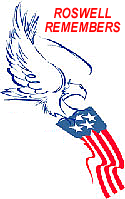 The Roswell Memorial Day ceremony was established in 1998 following the construction of the Faces of War memorial on the grounds of the Roswell City Hall complex. The founders of the memorial wanted to honor those courageous men and women for the commitment they made in protecting the freedom we enjoy today. Mr. Tom Price, a Rotarian with the Roswell Rotary Club, had a desire to create an annual event at the memorial site, which would incorporate the holiday, families and community into one great day of remembrance.

The Rotary Club of Roswell and the Rotary Club of Roswell East teamed up with the City of Roswell to make Mr. Price's dream a reality. The Roswell Memorial Day Committee was incorporated, comprised of members from both Rotary Clubs and the City of Roswell.

Today, the Roswell Memorial Day ceremony draws in excess of 6,000 people, making it the largest Memorial Day ceremony in Georgia. In 2001, the ceremony was named Roswell Remembers.

In 2002, the Roswell Remembers Memorial Day ceremony was proud to have as its guest speaker, Brig. Gen. Paul Tibbets (USAF Ret.), the pilot of the Enola Gay, the plane which dropped the first atomic bomb August 6, 1945 on Hiroshima, Japan.

In previous ceremonies, those who perished in Pearl Harbor and Normandy Beach were honored. Survivors from both these battles were on hand to offer their stories and speak to the crowd. Also honored in previous years were the Tuskegee Airmen and the Eighth Air Force.
For More Information
General Paul Tibbets (Ret)
www.theenolagay.com
Pearl Harbor Survivors Association
www.pearlharborsurvivorsonline.org
While there is no official Normandy survivors association, learn more about D-Day at the Britannica website
www.search.eb.com/normandy
Tuskegee Airmen
www.tuskegeeairmen.org
"Mighty" Eighth Airforce
www.mighty8thmuseum.com